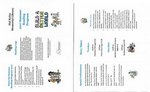 Brochure for summer reading program Hal Kohn Memorial Library Downtown Newberry
Related Files: Summer_Reading_Log.pdf
NES Students, this summer we are partnering with our County Library for a Summer Reading Program. Please print off the attached document and color in rockets for each 20 minutes you spend reading this summer. When you return to NES in the fall, you may redeem completed sheets for a prize of your choice.
Please note that the picture included with this website post contains the program brochure. The attached PDF is of the student reading log.
For more information, please call 803-276-0854 ext 2. and ask for the children's librarian or visit http://www.youseemore.com/Newberry/default.asp.